Next Meeting is Sunday, November 03, 2019 at 2 p.m.
With Eric Triplett, The Pond Digger!!!
The Pond Digger specializes in constructing ecologically friendly, low-maintenance water features for fish and aquatic plants, but more importantly, for people!
Information, Education and Inspiration is the backbone of our company. We can't get enough and we can't GIVE enough. We believe this is why our organization is recognized year after year (for more than a decade now) as one of the countries cutting edge waterscape and design construction companies.
Not only do we build water features day in and day out; we also take great passion in teaching do-it-yourself pond builders, professional pond contractors, men, women and children alike, proper pond design and construction techniques. Through Pond Construction Seminars, Ponds for Schools programs, Pond Tours and our retail facility located in Yucaipa, California we have become Southern California's epicenter for water features
A Note From The Pond Digger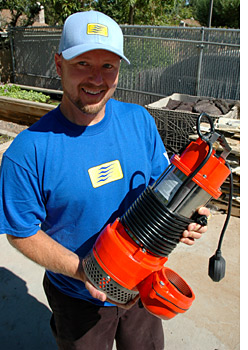 I just blink an eye and another year goes by and as I look back and think about the earth we have moved as a company building waters features and the accomplishments we've made over the last decade, I have to smile and think back 20 years ago. I was a young man and I left my respectable, well paying job as a journeyman carpenter to chase my dreams.
I'm here to tell you, dreams do come true if you take the time to outline them, roll up your sleeves and go for it. But then again, I'm the kind of guy that slides into second base headfirst even when I'm losing 10 to nothing. All the way, everyday, No Holds Barred!
"I love building waterscapes, pondless waterfalls, ponds and streams, and I am lucky enough to have the opportunity to wake up every morning and do what I love to do because I rolled up my sleeves 20 years ago and chased my dreams." As I finish writing our organizations profile listening to one of my favorite songs by Edwin McCain, I Could Not Ask For More, our accomplishments really hit home.
Make no mistake about it; I have a special place in my heart for all of my customers, clients, and friends, who believed in my sometimes crazy but always passionate ideas! I have become The Pond Digger and a true businessman, by simply chasing my dreams. Take my advice; Work hard, laugh often, one day try sliding into second base headfirst, but take the time to stop to smell the roses and whatever you do, follow your dreams.
LOCATION
Costa Mesa Senior Center
695 W. 19th St.
Costa Mesa , CA 92627
---
Guests are always welcome!
Our speakers cover an extensive range of topics to enlighten and promote best fish keeping practices.
Always something to find at our monthly auctions of member fish stock and related items!
California's Organization of Aquatic Show Tropicals (COAST) is an all-volunteer, 501©(7) not-for-profit association registered with the state of California.